I don't want to quote Sally Fields, but her "you like me; you really like me!" Academy Awards speech came to mind when 3 lovely ladies gave me blog awards this week. The other quote that came to mind was from Wayne's World (SNL): I'm not worthy!
First from
Stace
was the Blogging Friends Forever award:
The rules for this award are -
1. You have to tag 5 people.
2. 4 of the 5 have to be dedicated followers to your blog. [The word "follower" reminds me of the joke about "Do not walk in front of me; I may not follow. Do no walk behind me; I may not lead. Do not walk next to me either; just get the h*ll away from me and leave me alone." LOL! Seriously, I like to think of you as friends, not "followers". "Followers" makes me feel like a cult leader.]
3. One has to be someone new or recently new to your blog and must live in another part of the world.
4. You must link back to whomever gave you the award (yup...see above)
Ok...
1) I am just going to list recipients of this, and the following awards; none of you are by any means obligated to play. I'll still adore ya! Stace had beautiful little write-ups for each recipient, but I have a basket of beans and a basket of gnarly peaches to process and I just can't find it in me today to write anything poetic, so I'll be unusually terse.
*sound of tearing envelope* And the award goes to:
Diane - Much of a Muchness
- Diane makes gorgeous books (I'm breathlessly anticipating her Etsy debut) and writes a witty blog with lots of cool visual (video, cartoon, etc) finds that always crack me up.
Epicure - Thought for Food
- since she's been with me since my first blog attempt, and when she gets around to it, writes wonderful posts on food.
Abby - whose blog is private, so I can't link to it. :) So glad I met you guys through Laura!
Pica - Bird By Bird
- a birding journey with Pica through her lovely bird art is a pleasure indeed.
Firefly Mom - A Pack of Hungry Snails
- Browncoats unite! I want to be homeschooled by F-M. :)
And since I can't link to Abby, I'm going to cheat a little and add one more:
Gracefruit - Hot Process Soap Making
- Elizabeth is an ex-pat in Scotland (lucky her!) who has wonderful tutorials on HP method, the sweetheart. (I think this fits the #3 criteria.)
The next award came from
Diane
for being a "kick-ass blogger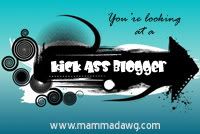 Even if I don't think I deserve it, I just love Diane, and I appreciate the compliment.
The award originated at
Mamma Dawg's
, and she says, "Maybe they've got incredible, original content. Or they're overflowing with creativity. Is it someone that helps you become a better blogger? Or a bloggy friend you know you can count on? Or maybe it's someone who simply inspires you to be a better person... or someone else who sends you to the floor, laughing your ass off. Whatever the reason may be, I'm sure you know at least a couple of bloggers that kick ass. Well... why not tell 'em so?
Here's how to send them some love:-
* Choose 5 bloggers that you feel are "Kick Ass Bloggers"
* Let 'em know in your post or via email, twitter or blog comments that they've received an award
* Share the love and link back to both the person who awarded you and back to www.mammadawg.com
* Hop on back to the Kick Ass Blogger Club HQ to sign Mr. Linky then pass it on!
To get codes click on the button above which will take you to KABC HQ - don't forget to link up the person who nominated you for the Kick Ass Blogger Club."
*sounds of envelope tearing again* And the award goes to:
Anne-Marie - Soap and the Finer Things in Life
- I don't know how many things I've learned at her blog. Plus,
Bramble Berry
is a terrific company to get soaping supplies.
Suzanne - An Open [Sketch]book
- Suzanne is an amazing artist/designer.
Joanne - The Soap Bar
- I love the reviews. I find so many neat soaps here...to dh's chagrin.
Brad - Bone in the Fan
- deadpan hilarious. Says things I don't dare. He really does kick some asses.
Emily - The Little Window Shoppe
- eye candy for window (or is that screen?) shoppers. Lovely site.
The third, but certainly not least, award came from Joanna of both
Product Body Blog
and
The Soap Bar
blog.
I know Joanna finds and visits the coolest sites (I've found several through her blog), so it is most flattering to be chosen by her.
The rule for this one is simple: Link who presented you the award, then pass this along to seven others. I like one step instructions. :)
Who's brilliante? Let's open the third envelope (stick with me and my imagery here)...
Get In, Hang On
- I'd been reading Meg's homeschool advice on a homeschooling through high school e-list long before I found her blog. I value her guidance on how to proceed with my kids during their teen years. And, she makes some way cool leather goods. :)
Spotted Cow Soaps
- Linda is not just about soaps, but also healthy eating and small biz entrepreneur-ship.
Mud-Puddle Girl
and
Under the Willow
- both are Carrie-Gigi's brain-children. Sweet and earthy; it feels like home when I go there.
Imagine and Create
- Annie inspires me with the beauty of her blog and her artwork. I'm eagerly awaiting her new sea turtles book.
One Bubble at a Time
- Heather has so much fun that it spills out to everyone who visits her.
Gassner Custom Soaps
- I don't know if Elizabeth ever sleeps with all the things she does (canning 100lbs of tuna for fun?? Whoa!).
The Happiness Project
- While Gretchen doesn't know me from any of the other people who visit here, she has many wise words to keep me from being too surly all the time. :)
C'est tout!
"To accomplish great things, we must dream as well as act." ~ Anatole France (1844 - 1924)